1/7
High Quality Oil Repellency Bonded Metallic Epoxy Powder Paint and Coatings-copy
Quick Details
Port:
FOSHAN, GUANGZHOU, SHENZHEN
Shipping:
Support Express · Sea freight · Land freight
Supply Ability:
500 piece per day
Quick Details
Certificate

ISO9001,ISO14001

Color

According to the client's requirement

Application

Outdoor and indoor

Surface

Smooth and texture

Storage

12months

Curing condition

200℃/10mins

Test

ROHS REACH EN71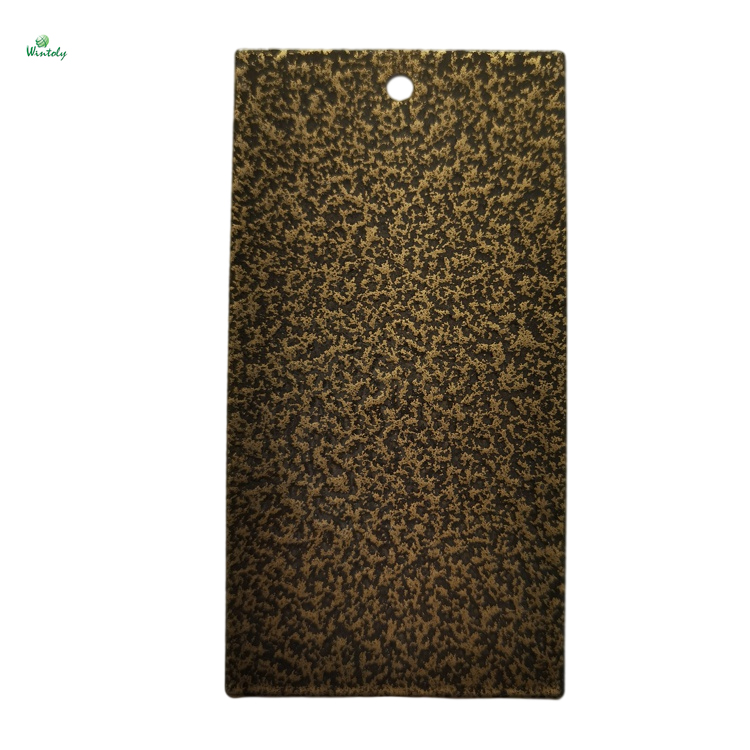 Epoxy and Polyester Powder Coating

RAL and PANTONE or customized

smooth/sandy/wrinkle/metallic/chrome/wood/hammer /glitter and customized

High glossy/semi glossy/matt

5~6 square meters per kg at 40~90μm film thickness

Construction aluminium profile, advertisement board, outdoor lamps,
highway guardrail, road fence, outdoor metal furnitures, lamp pile,
crust of air conditioner, agricultural equipment or can be used on the surface
coatingof other metal work that require good performance in the environment
of high-intensity ultraviolet ray.
Foshan Wolong Chemical Plant Co., Ltd. is a large-scale specialized powder coatings
manufacturer in China. Our company covers more than 20,000 square meters of area .
We are in possession of 10 large-scale plastic powder production lines introduced from
home and abroad. with annual output up to 5000 tons.
We manufacture epoxy polyester powder coating, polyester TGIC powder coating, polyester
TGIC -FREE powder coating, polyurethane powder coating ,which are used to metal surface
coating.

Surface finish: smooth high gloss, smooth semi matt, smooth matt, wrinkle, emboss,
hammertone, sand vein, artistic and so on.

Just tell us your specification,we can provide you with products with best OEM service.
| | |
| --- | --- |
| | |
| | |
| | |
| | Inner packing:polyethylene bag Outer packing:paper carton |
| | |
| | 30% deposit in advance,70% balance before shipment |
1-Question: Are you Trade Company?
A:NO , We have our own factory . Brand " Wintoly"
2-Question:Is Powder Coating safe for consumers such as children?

A:Yes. Powder coating is used on children's toys and furniture sold every day. It has the distinction
of being one of the most environmentally and consumer friendly products on the market today.
3-Question: What colours are available to me?

A:We usually carry a very large range of colours, including the standard Colorbond range.
Has access to over 300 paint colors and textures. Feel free to call us and ask if we stock your
required colour.
If you already have a color in mind, bring it in so that we can match it as closely as we can
without sacrificing quality.
4-Question:What type of powder coating should I choose?
A:Powder coatings are available in three basic types, each offering different performance
attributes. Epoxy for the best corrosion protection. Hybrid(s) typically offer the best chemical
and solvent resistance. Polyester for the highest exterior stability and performance.
5-Question: What Can Be Powder Coated?
A: Typically any metal object that can hold the electrostatic charge needed to affix the
sprayed powder and can tolerate the high heat levels of the curing process. Mild steel,
galvanized and electroplated steel, aluminum, stainless steel and most other steel alloys
can be powder coated.
6-Question: Are all the colors the same price?
A:No. Some colors are more expensive due to their availability, ingredients. such as
textured powders, sand, metallics, or glow in the dark powders.
7-Question: Where can I find pricing information?
A;Our pricing structure is dependant on volume, technology and color choice .
Please contact us for specific product pricing.
customized Oil Repellent Powder Coating OEM,manufacturer,exporter,factory
Nowadays, home decoration oil repellent engineering plays a vital role in the home environment. Good oil repellent engineering can provide a good living environment, to ensure the quality of life. So, what are the kinds of oil repellent coating for home decoration? How to choose the right oil repellent coating in home decoration oil repellent project? Let's have a look at the oil repellent powder coating.
Types of oil repellent powder coating
Polyurethane coating
Polyurethane coating, known as "liquid rubber", is an oil-proof coating with excellent performance. It can bond firmly with all kinds of base surface. It has the advantages of strong adaptability to vibration, expansion and contraction, deformation, cracking and long service life, but the drying speed is slow, environmental protection is difficult to control, and the price is relatively high.
JS coating
JS coating is non-toxic and tasteless, belongs to environmental protection oil repellent coating. With excellent bonding strength and good tensile properties, it can well adapt to the deformation of the base, fast drying speed and high cost performance.
Acrylic coating
Acrylic waterproof coating environmental protection is good, oil performance is superior, construction is very convenient, open and use, its weather resistance and anticorrosion performance is superior, good color retention, has good extensibility, moderate price, can be applied on the wet base surface。
K11 coating
K11 coating could be divided into three types: general purpose, flexible, color. It has good adhesion with concrete and mortar base surface, can be wet, dry and other base surface construction, weather resistance, aging resistance, oil resistance.
How to choose the right oil repellent coating?
The above several oil - proof coatings are very good in oil - proof performance, are suitable for home decoration oil - proof coatings. Considering the wet surface construction, the preferred JS oil-proof coating; Considering durability and stability, K11 oil-proof coating or polyurethane oil-proof coating is recommended. Considering the convenience of construction, optional acrylic oil - proof paint.
The above is the introduction of the kinds of oil-proof paint for home decoration. The oil-proof project starts from the selection of oil-proof paint. Only by doing the first step of oil-proof paint selection can we provide a solid foundation for oil-proof engineering. In order to prevent long-term scene accumulation and technical precipitation in the oil field, we have developed a variety of oil-proof coatings for home decoration, which are suitable for various scenes in the oil-proof project of home decoration, providing efficient and perfect oil-proof solutions for the majority of users and ensuring the quality of oil-proof.
If you are looking for a customized Oil Repellent Powder Coating OEM,manufacturer,exporter,factory, please spend a few minutes visiting our website and we are looking forward to be your first choice. High quality oil repellent powder coating with a reasonable price is available and besides that we also provide customization service for you which means you have the opportunity to decide the ratio of the components of oil repellent powder coating.