1/6
High glossy flat surface rose color metallic powder coating
Quick Details
Port:
FOSHAN, GUANGZHOU, SHENZHEN
Shipping:
Support Express · Sea freight · Land freight
Supply Ability:
500 piece per day
Quick Details
Certificate

ISO9001,ISO14001

Color

According to the client's requirement

Application

Outdoor and indoor

Surface

Smooth and texture

Storage

12months

Curing condition

200℃/10mins

Test

ROHS REACH EN71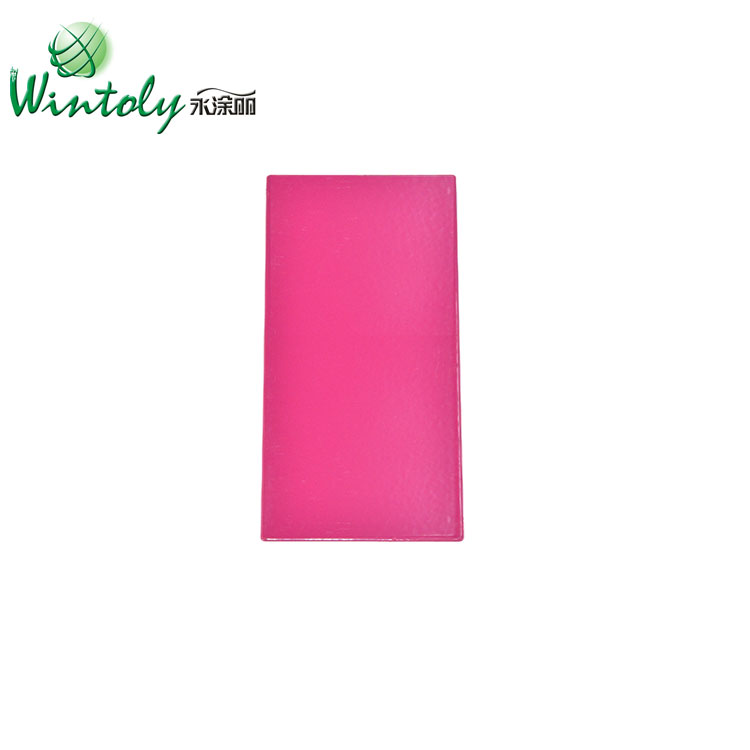 Epoxy and Polyester Powder Coating

RAL and PANTONE or customized

smooth/sandy/wrinkle/metallic/chrome/wood/hammer /glitter and customized

High glossy/semi glossy/matt

5~6 square meters per kg at 40~90μm film thickness

Construction aluminium profile, advertisement board, outdoor lamps,
highway guardrail, road fence, outdoor metal furnitures, lamp pile,
crust of air conditioner, agricultural equipment or can be used on the surface
coatingof other metal work that require good performance in the environment
of high-intensity ultraviolet ray.
customized Mirror chrome paint OEM,manufacturer,exporter,factory
Chrome plating refers to the act of plating chromium as a plating layer on other metals.
Chromium is a kind of silver-white metal with a bluish tint. Metal chromium is easily passivated in the air, and a very thin passivation film is formed on the surface, thus showing the properties of precious metals.
The chromium-plated layer has a very high hardness, and its hardness can vary in a wide range of 400-1200HV depending on the composition of the plating solution and process conditions. The chromium-plated layer has good heat resistance. When heated below 500℃, there is no obvious change in gloss and hardness. The temperature above 500℃ starts to oxidize and discolor, and the hardness starts to decrease when the temperature exceeds 700℃. The friction coefficient of the chrome layer is small, especially the dry friction coefficient, which is the lowest among all metals. Therefore, the chrome-plated layer has good wear resistance.
The chromium plating layer has good chemical stability. It has no effect in alkali, sulfide, nitric acid and most organic acids, but it can be dissolved in hydrochloric acid (such as hydrochloric acid) and hot sulfuric acid. In the visible light range, the reflectivity of chromium is about 65%, which is between silver (88%) and nickel (55%). Because chromium does not change color, it can maintain its reflectivity for a long time and is better than silver and nickel. .
The applications of mirror chrome paint
Protection-decorative chromium plating: Protective-decorative chromium plating is commonly known as decorative chromium. The plating layer is thin and bright and beautiful. It is usually used as the outermost layer of multi-layer electroplating. In order to achieve the purpose of protection, the zinc base or steel base must be plated thick enough. Then, the bright intermediate layer is plated with a thin layer of chromium of 0.25 ~ 0.5μ Commonly used processes include Cu/Ni and so on. After the polished product surface is plated with decorative chrome, a silver-blue mirror luster can be obtained. It does not change color for a long time in the atmosphere. This type of coating is widely used in the protection and decoration of parts such as automobiles, bicycles, sewing machines, clocks, instruments, and daily hardware. The polished decorative chrome layer has high reflectivity to light and can be used as a reflector. Plating micro-holes or micro-cracks chromium on multiple layers of nickel is an important way to reduce the total thickness of the coating and obtain a high-corrosion protection-decorative system. It is also the development direction of modern electroplating technology.
Hard chromium plating (abrasion-resistant chromium) coating: it has extremely high hardness and wear resistance, which can extend the service life of workpieces, such as cutting and drawing tools, pressing molds and casting molds of various materials, bearings, shafts, gauges, gears. It can also be used to repair the dimensional tolerances of worn parts. The thickness of hard chromium plating is generally 5-50μm, but it can also be determined according to needs, and some are as high as 200-800μ Hard chrome plating of steel parts does not require an intermediate coating. If there are special requirements for corrosion resistance, different intermediate coatings can also be used.
Copper-white chrome-plated chrome-plated layer: It is milky white, has low gloss, good toughness, low porosity, soft color, lower hardness than hard chrome and decorative chrome, but high corrosion resistance, so it is often used for measuring tools and instrument panels. In order to improve its hardness, another layer of hard chromium can be plated on the surface of the milky white coating, the so-called double chromium coating, which has the characteristics of both the milky white chrome layer and the hard chrome coating. It is mostly used for plating that requires both abrasion resistance and corrosion resistance.
Loose-hole chromium plating (porous chromium): It uses the characteristics of fine cracks in the chromium layer itself. After hard chromium plating, mechanical, chemical or electrochemical loose-hole treatment is carried out to further deepen and widen the crack network. The surface of the chromium layer is covered with wide grooves, which not only has the characteristics of wear-resistant chromium, but also can effectively store the lubricating medium, prevent non-lubricated operation, and improve the anti-friction and wear ability of the workpiece surface. It is often used for the coating of the surface of the sliding friction part under heavy pressure, such as the inner cavity of the cylinder barrel of the internal combustion engine, the piston ring, etc.
Black chrome-plated black chrome coating: black color, uniform luster, good decoration, and good matting; high hardness (130-350HV), wear resistance at the same thickness is 2 to 3 times higher than bright nickel; Its corrosion resistance is the same as that of ordinary chromium plating, which mainly depends on the thickness of the intermediate layer. It has good heat resistance and will not change color below 300° The black chromium layer can be directly plated on the surface of iron, copper, nickel and stainless steel. In order to improve the corrosion resistance and decorative effect, copper, nickel or copper-tin alloy can also be used as the bottom layer, and the black chromium plating layer can be plated on the surface. Black chrome coating is often used for the protection and decoration of the parts of aeronautical instruments and optical instruments, solar absorption panels and daily necessities.
Foshan Wolong Chemical Plant Co., Ltd. is a large-scale specialized powder coatings
manufacturer in China. Our company covers more than 20,000 square meters of area .
We are in possession of 10 large-scale plastic powder production lines introduced from
home and abroad. with annual output up to 5000 tons.
We manufacture epoxy polyester powder coating, polyester TGIC powder coating, polyester
TGIC -FREE powder coating, polyurethane powder coating ,which are used to metal surface
coating.

Surface finish: smooth high gloss, smooth semi matt, smooth matt, wrinkle, emboss,
hammertone, sand vein, artistic and so on.

Just tell us your specification,we can provide you with products with best OEM service.
| | |
| --- | --- |
| | |
| | |
| | |
| | Inner packing:polyethylene bag Outer packing:paper carton |
| | |
| | 30% deposit in advance,70% balance before shipment |
1-Question: Are you Trade Company?
A:NO , We have our own factory . Brand " Wintoly"
2-Question:Is Powder Coating safe for consumers such as children?

A:Yes. Powder coating is used on children's toys and furniture sold every day. It has the distinction
of being one of the most environmentally and consumer friendly products on the market today.
3-Question: What colours are available to me?

A:We usually carry a very large range of colours, including the standard Colorbond range.
Has access to over 300 paint colors and textures. Feel free to call us and ask if we stock your
required colour.
If you already have a color in mind, bring it in so that we can match it as closely as we can
without sacrificing quality.
4-Question:What type of powder coating should I choose?
A:Powder coatings are available in three basic types, each offering different performance
attributes. Epoxy for the best corrosion protection. Hybrid(s) typically offer the best chemical
and solvent resistance. Polyester for the highest exterior stability and performance.
5-Question: What Can Be Powder Coated?
A: Typically any metal object that can hold the electrostatic charge needed to affix the
sprayed powder and can tolerate the high heat levels of the curing process. Mild steel,
galvanized and electroplated steel, aluminum, stainless steel and most other steel alloys
can be powder coated.
6-Question: Are all the colors the same price?
A:No. Some colors are more expensive due to their availability, ingredients. such as
textured powders, sand, metallics, or glow in the dark powders.
7-Question: Where can I find pricing information?
A;Our pricing structure is dependant on volume, technology and color choice .
Please contact us for specific product pricing.